SCHEDULE CHANGE: The following changes have been made to the JH and Varsity softball schedules: September 13 Varsity Softball at Canton has been moved to Highland (NO JV GAME) Game time is 5:30pm September 19 Varsity and JH softball vs. Canton has been moved TO Canton. (NO JV GAME) Games start at 5pm. Sept 19 there will be a fundraising barbecue at Canton in memory of Londyn Logsdon. Proceeds to benefit a Lewis Co family in need. GO COUGARS!!
JH Softball-3rd Place Centralia Tournament

The Marching Highlanders sounding good in parade action today at the Lewistown Appreciation Day festivities. #GoCougars #WeAreHighland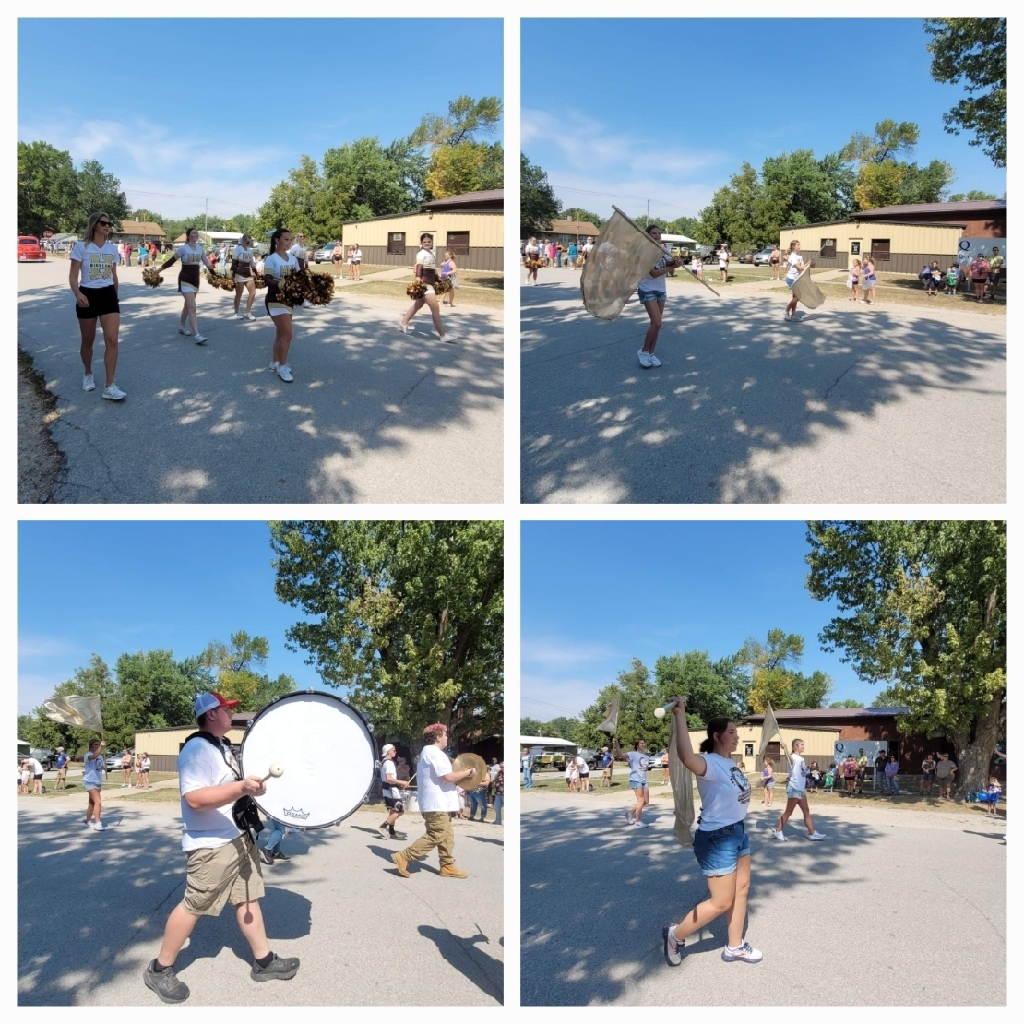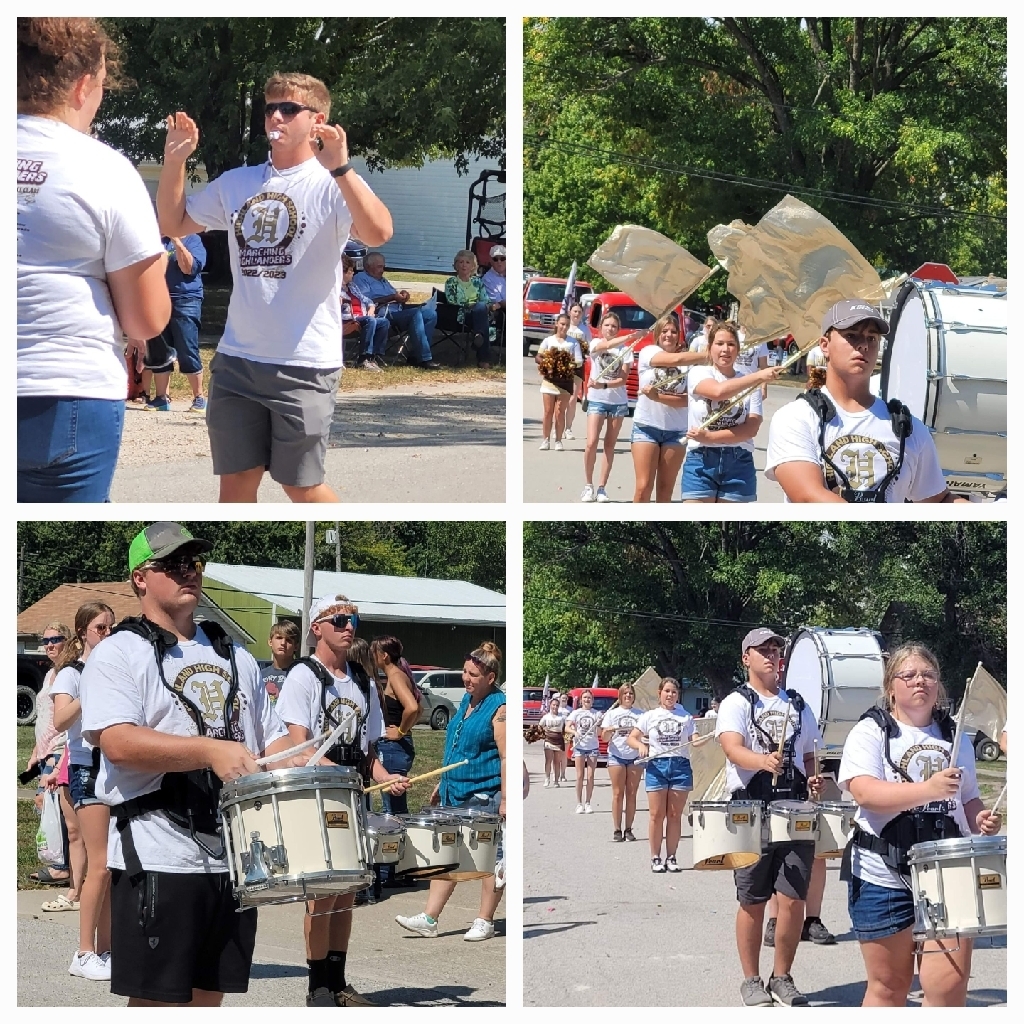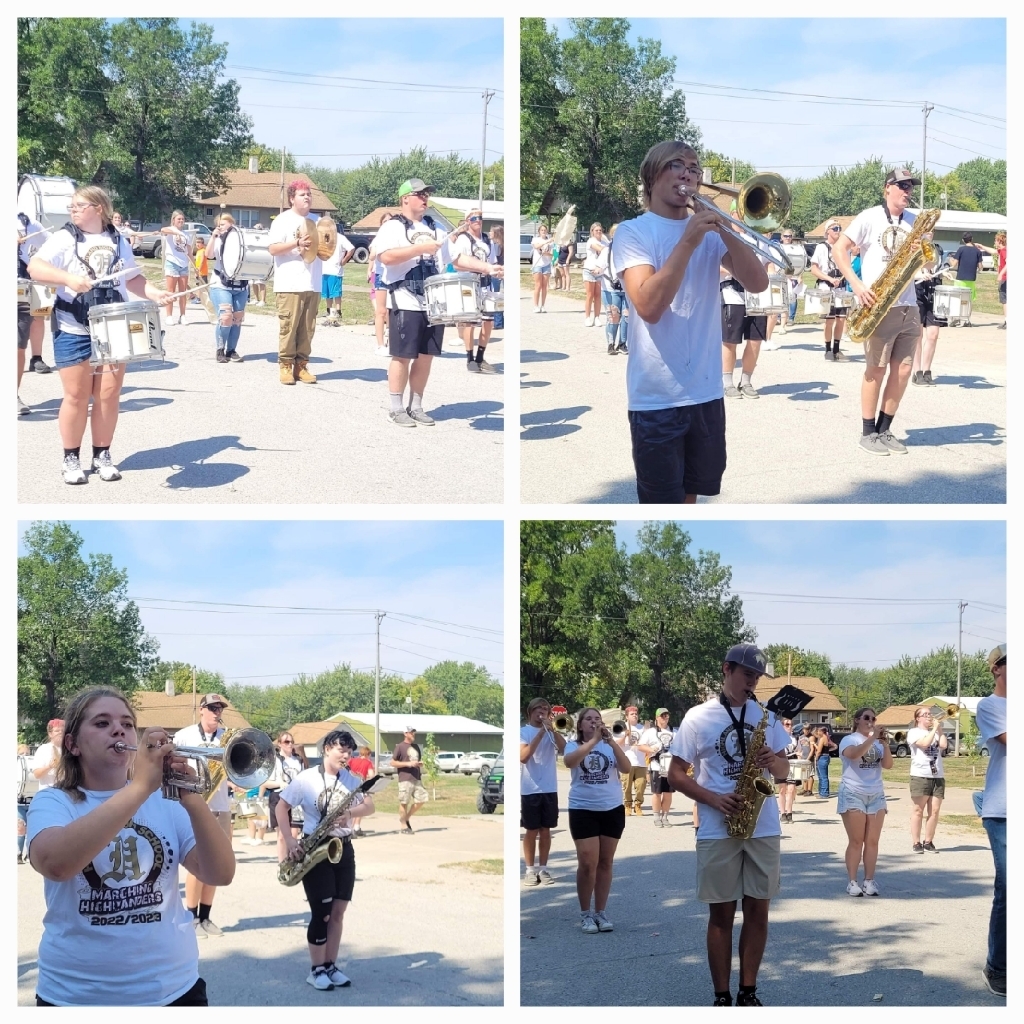 The Highland Lady Cougar JH Softball team comes from behind to win 3rd place at the Centralia Tournament with a walk off triple!! Great all day effort!! Congratulations!!! GO COUGARS!!

The Highland Cross Country team working BINGO at the Lewistown Appreciation festival after competing at Palmyra today! #CougarPride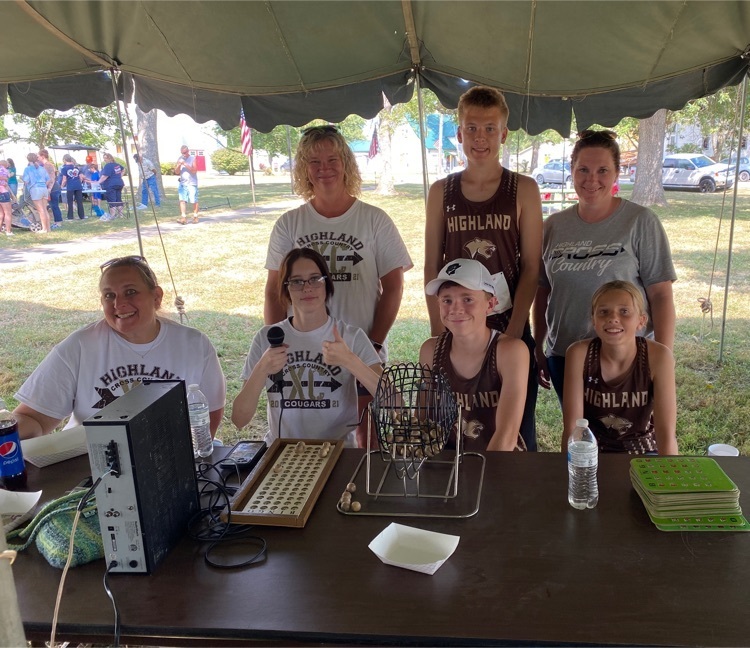 JH Softball falls to a good Mexico team 5-0 at the Centralia Tournament!! The Lady Cougars will play for 3rd place at 3pm!! GO COUGARS!!

The Highland Cross Country team traveled to Palmyra today. Highland Varsity runners Kaycie Stahl (5th) and Ethan Clow (18th)came away with medals for the Cougars! Nathan Caudill, AJ Caudill, and Isaac Roberts narrowly missed medals for Highland also. Way to #GoCougars!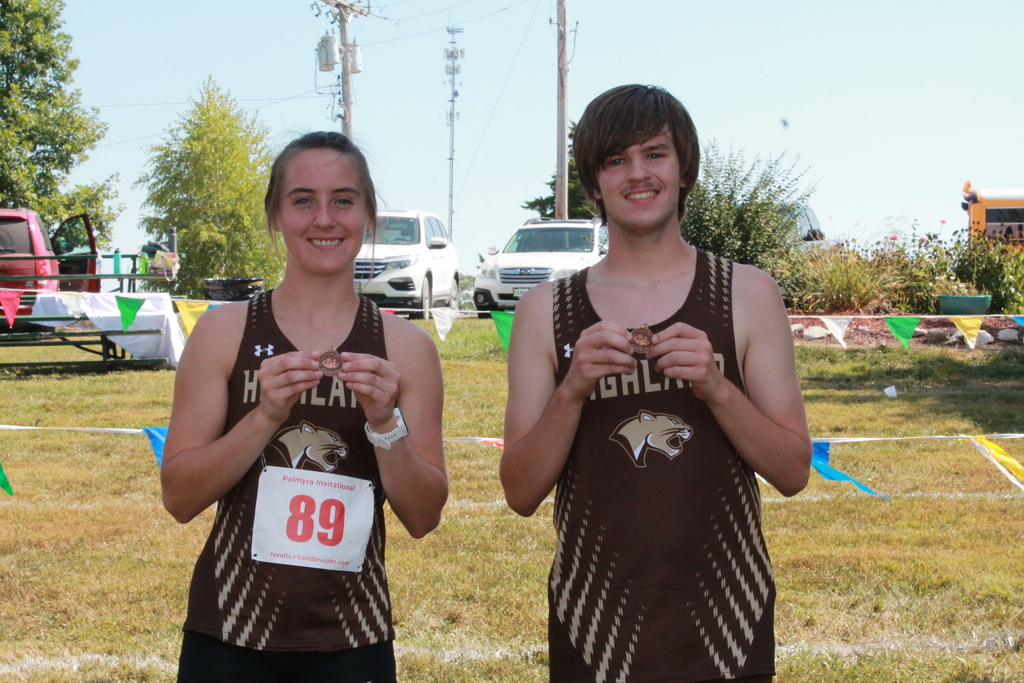 Congratulations to the Highland Cross Country team to an excellent start to the season. Tuesday night, the Cougars hosted their home meet at River Valley Golf Course. Kaycie Stahl won the home opener with a time of 24:10.6. Other Highland medalists include Ethan Clow (6th), Nathan Caudill (8th), Gage Rudd (11th) & AJ Caudill (8th). Way to #GoCougars!!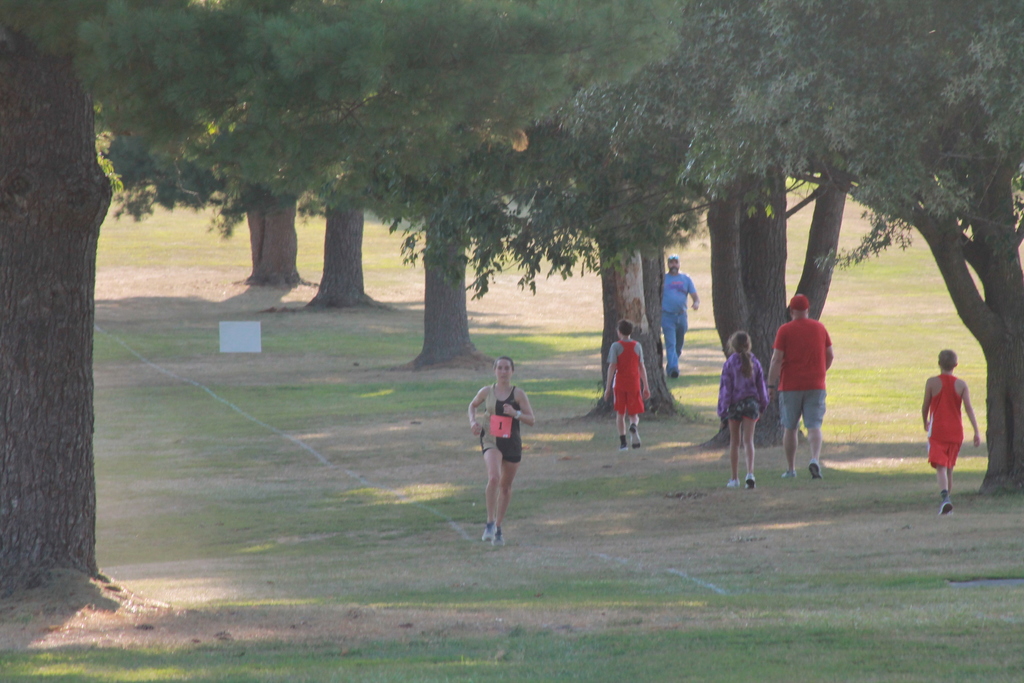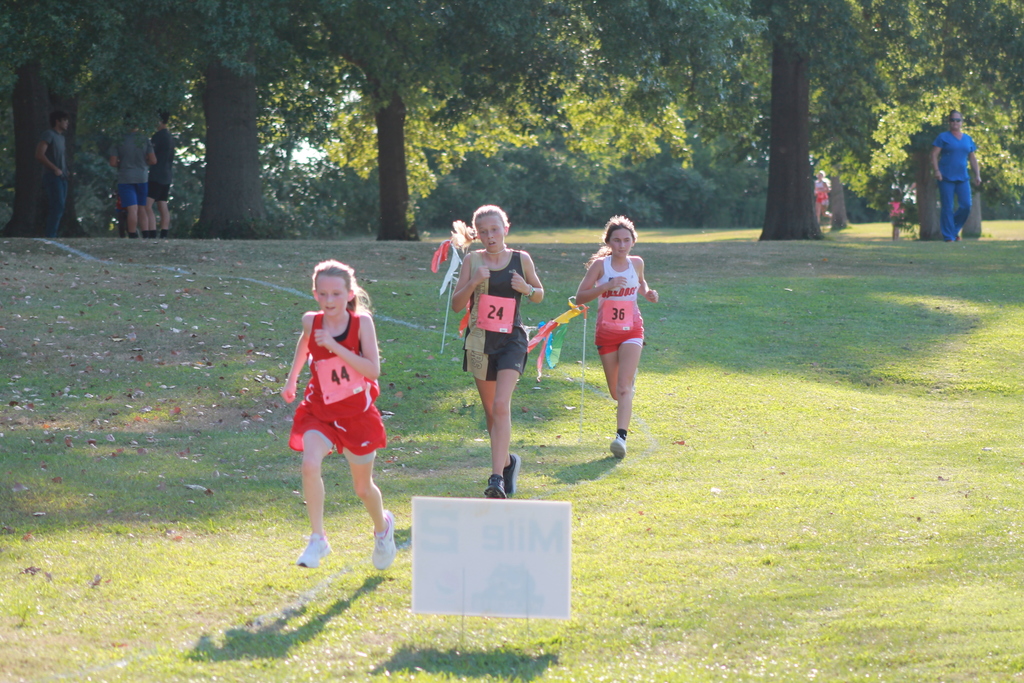 The Highland JH Softball team defeats Troy South in the first round of the Centralia Softball Tournament. After being down 6-1 going into the last inning of play the Lady Cougars rallied to win 7-6. GO COUGARS!!

The JV Football game scheduled for Monday vs. Scotland Co has been cancelled due to low player numbers at Scotland Co.
JH Softball Gold team went down in defeat to Clark Co 9-11 on Thursday evening, but Brown team rebounded for a 14-7 win.

3rd grade is recycling plastic bottles into beautiful art! Seaworld inspired us to do this project. By making plastic into art the plastic stays off the ground and protects the wildlife! Help us keep the Earth clean!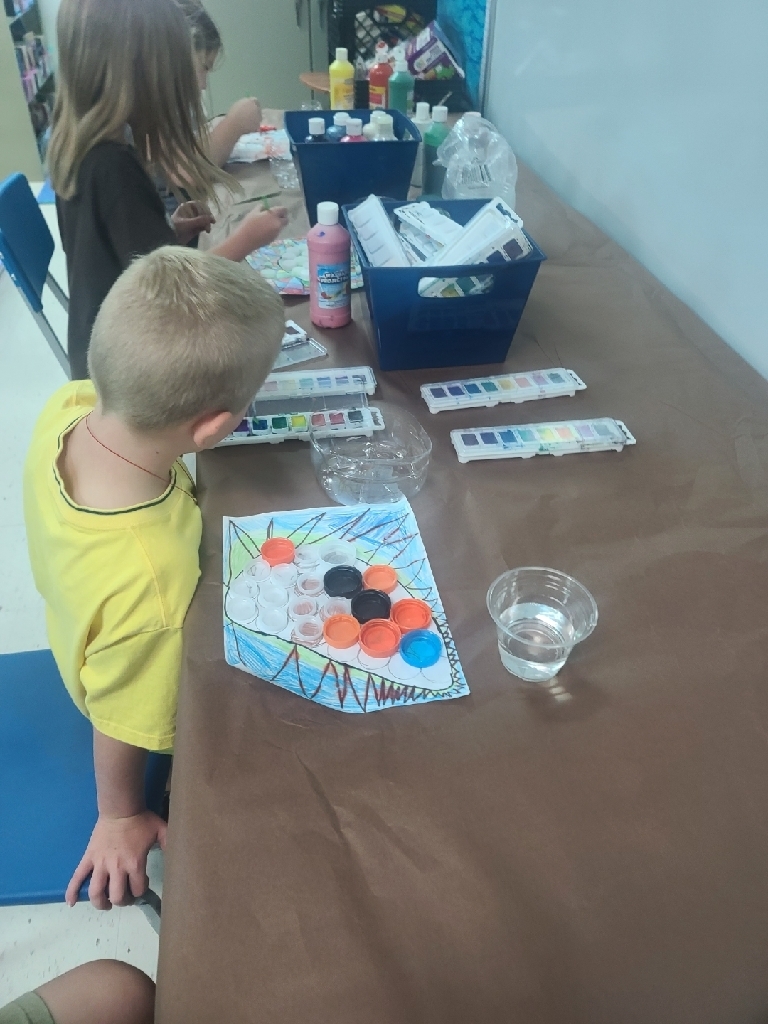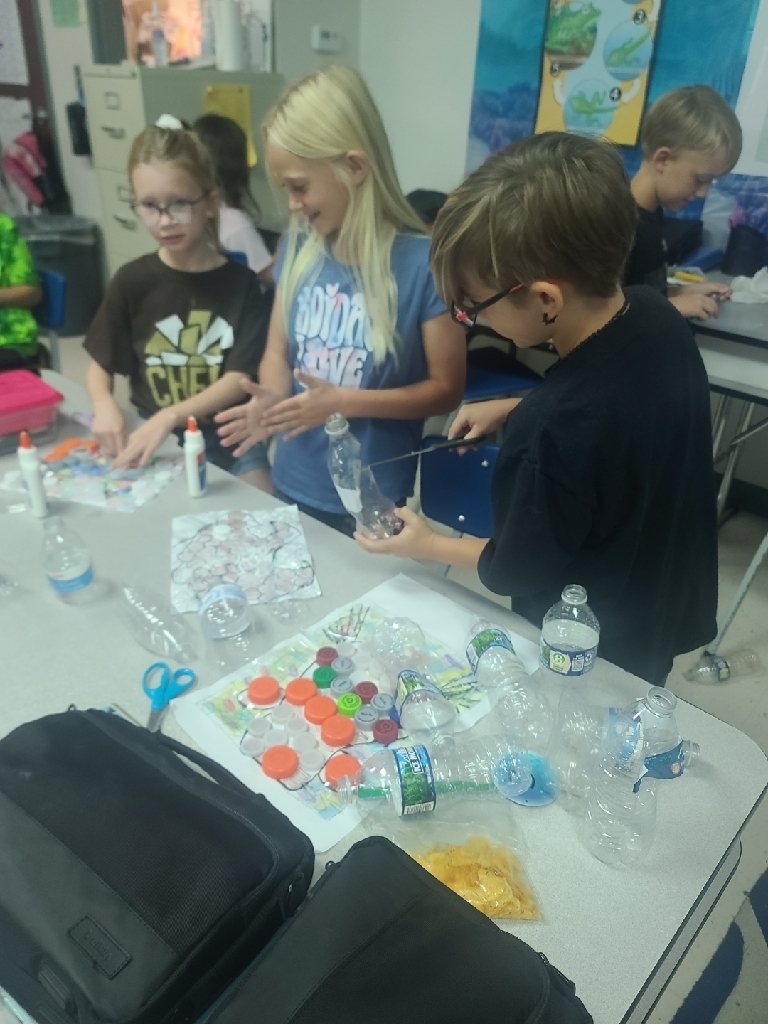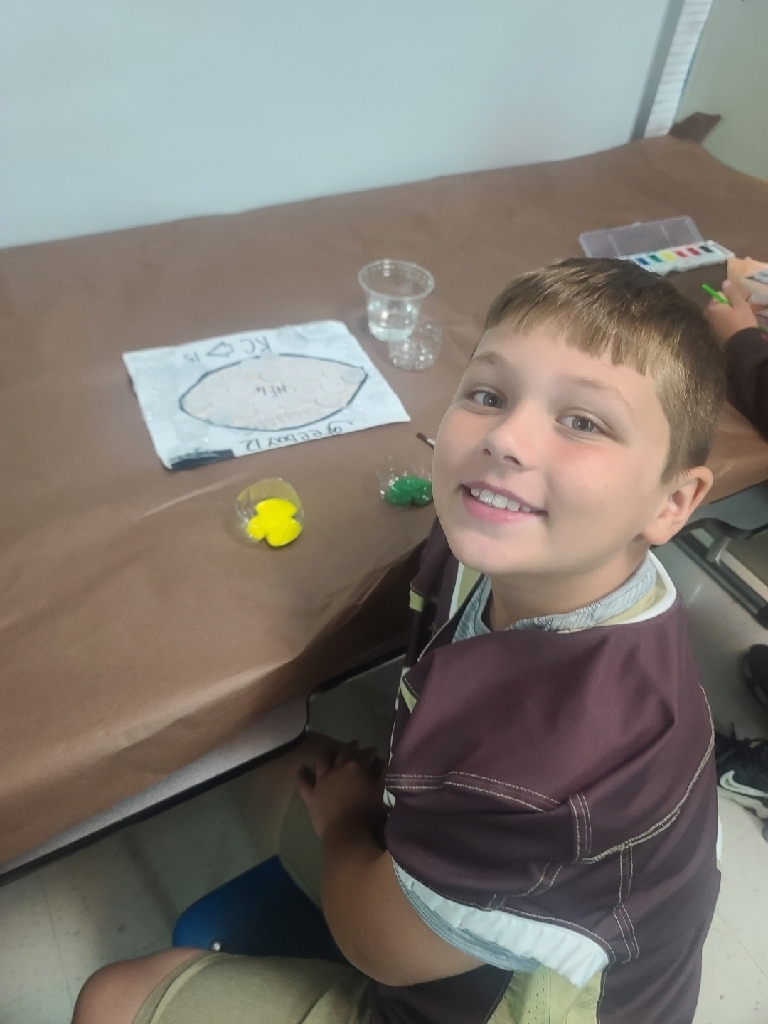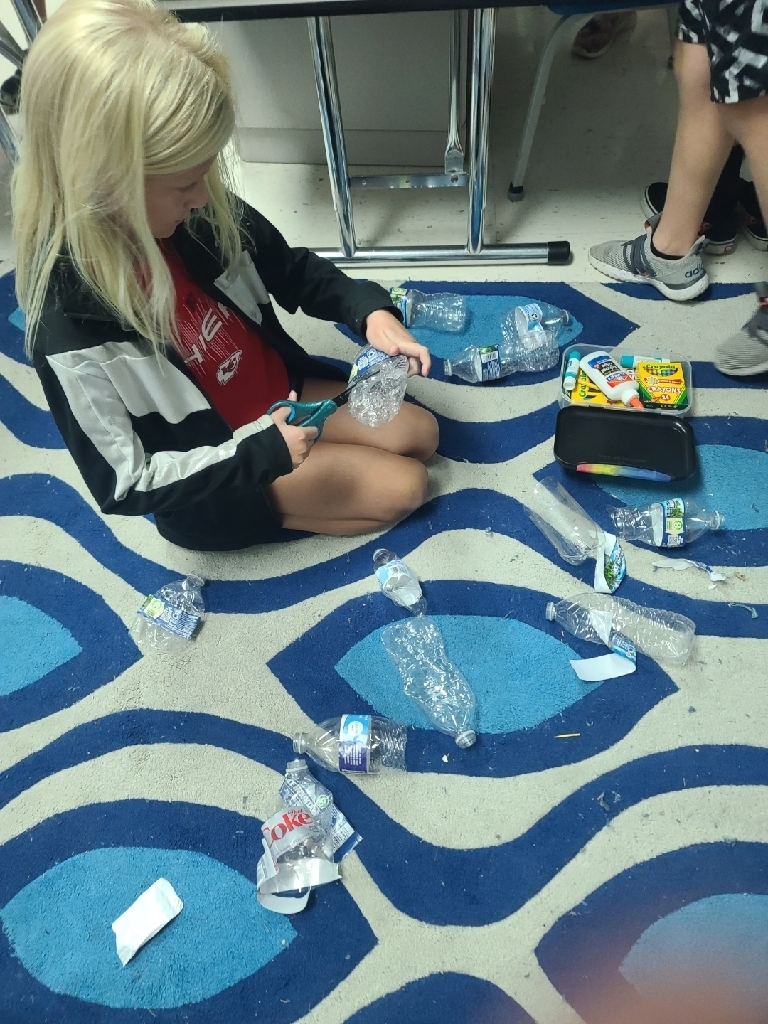 Mrs. Bennett's 2nd grade class are ready to cheer on our Varsity FB team tonight against Monroe City! Kickoff at 7:00 p.m. #GoCougars #CougarNation #WeAreHighland
https://youtu.be/WFaNgnI0k38

HES Student Council elections for 5th and 6th grade will be held next Friday, September 16th. If your child (5th or 6th grader) is interested in running for an officer position, speeches need to be turned in for approval to Mrs. Brinkley or Ms. Shrader by Monday, September 12th. Permission slip letters were sent home yesterday (Sept. 8th).
Twenty-seven Highland FBLA members attended Career Day at Busch Stadium.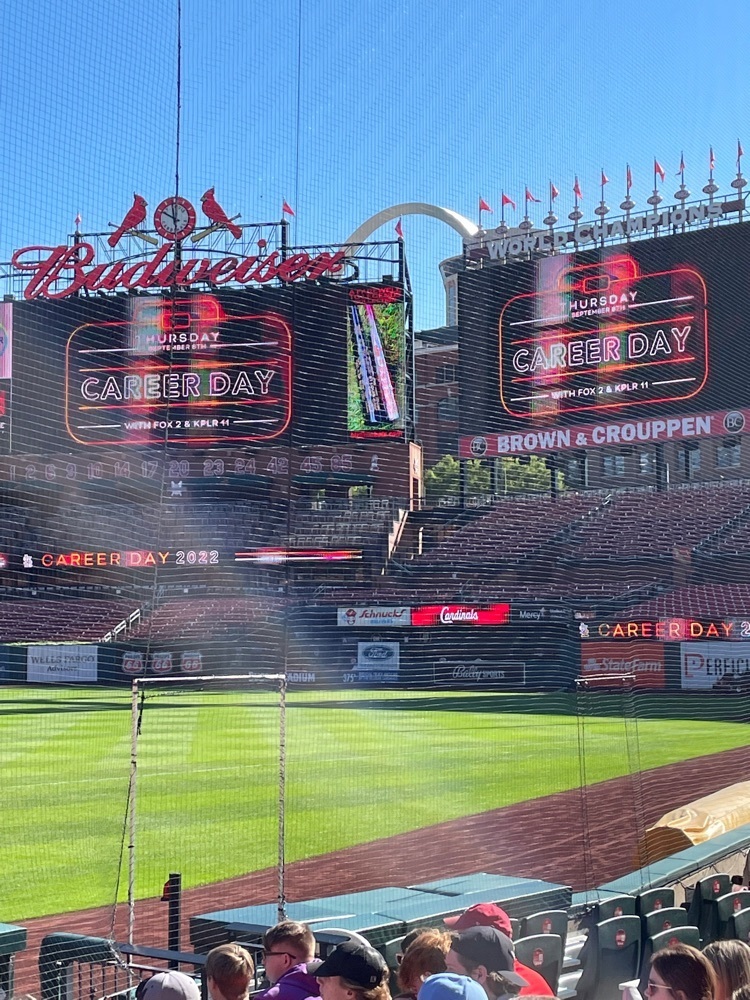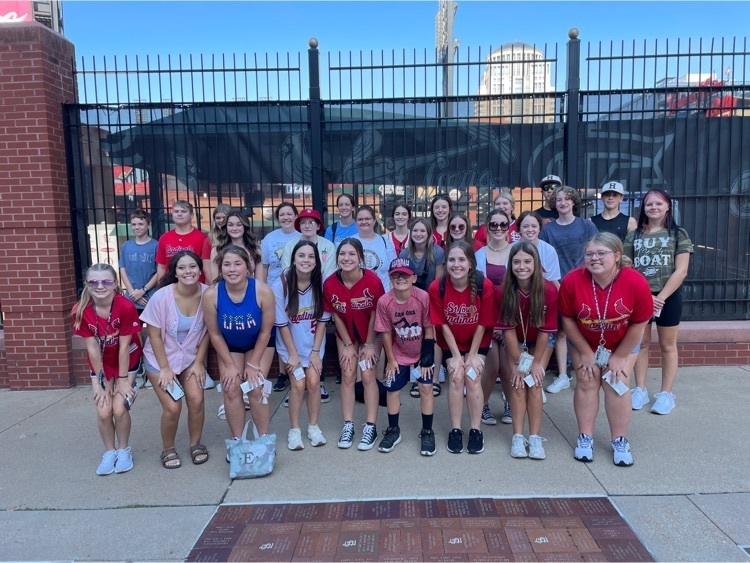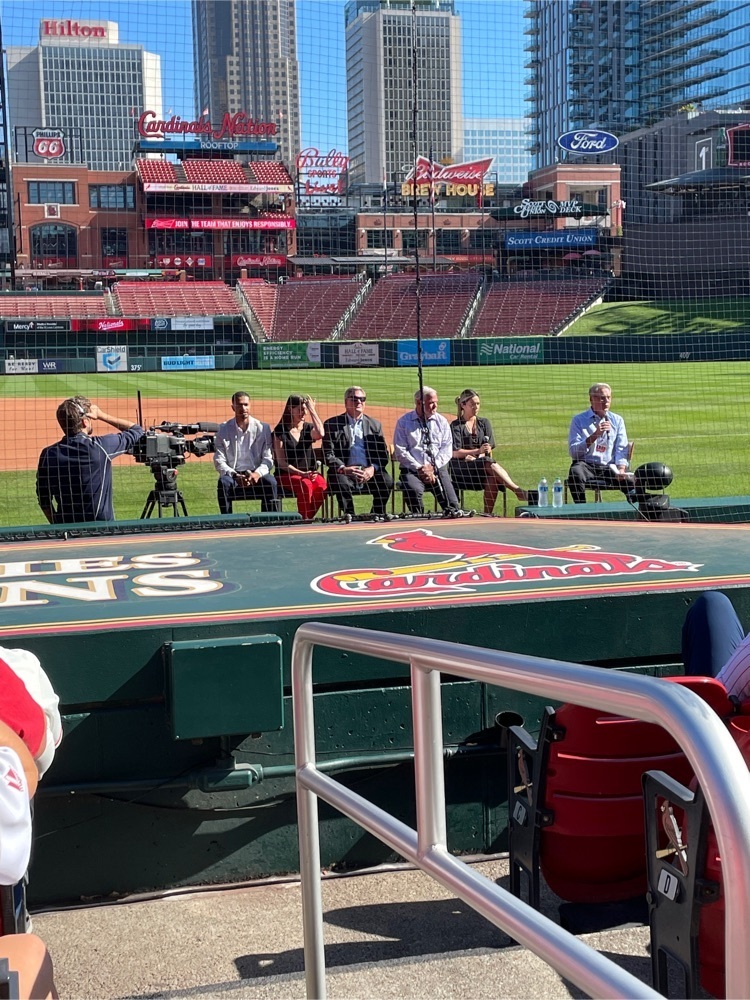 A big THANK YOU goes out to those in Cougar Nation who are leading the Thankful Thursday initiative. Several LCC-1 staff received a special treat as a "thank you" for all that they do. This was greatly appreciated and a nice way to recognize some LCC-1 staff! #WeAreHighland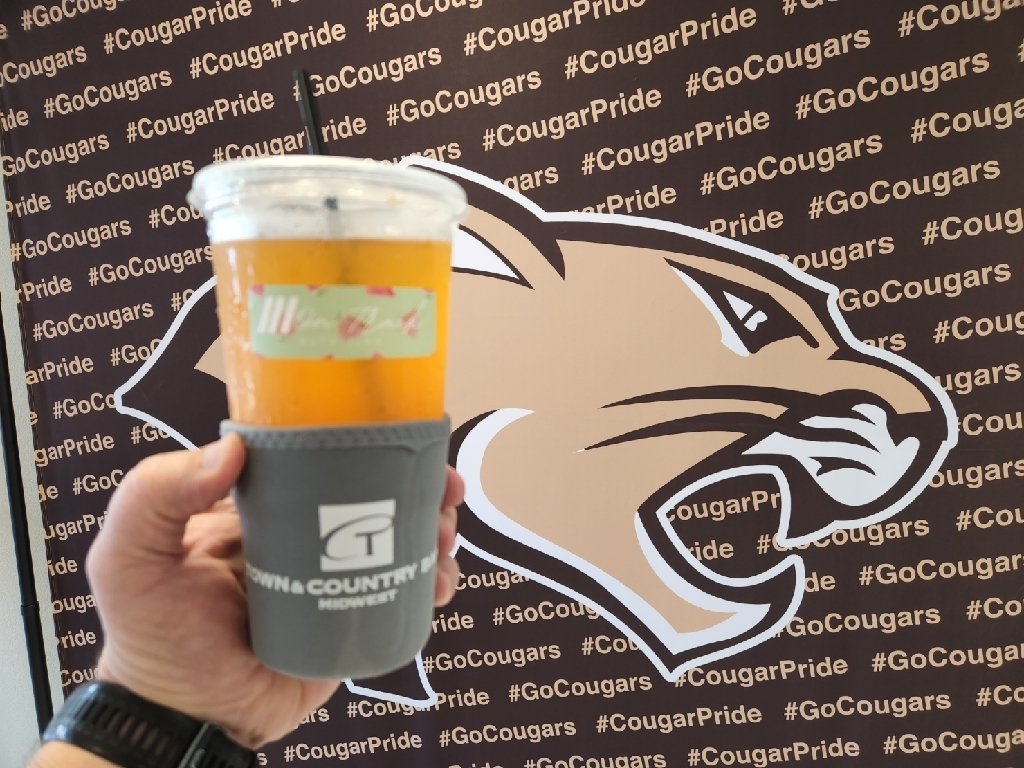 JH Softball Gold team lost a close one 6-8 against Macon. Brown team was victorious 16-1. Next game Thursday at Clark Co.

HES had 2 more COVID positives reported - 1 in Mrs. Phillips (3rd) and 1 in Mrs. Steinkamp (preK). HHS had 1 COVID positive reported. Parents/Guardians - please continue to monitor your children closely for signs & symptoms and keep sick ones home from school!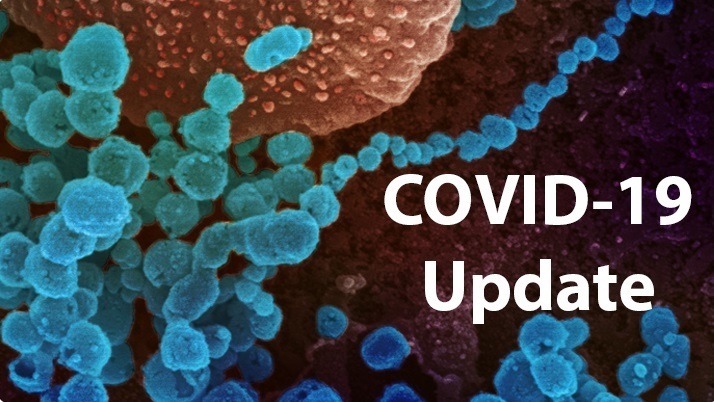 The LCC1 Board of Education will conduct a special meeting at 5:30pm tomorrow night (9-8-22) to re-adopt the districts Board Policy on Conflict of Interest and Financial Disclosure. Full agenda available here:
https://bit.ly/3x4qKWl
. This will be the only agenda item & is to satisfy requirements of the Missouri Ethics Commission. The regular September monthly meeting will take place 2 weeks from today, 9/21/22 at 6pm.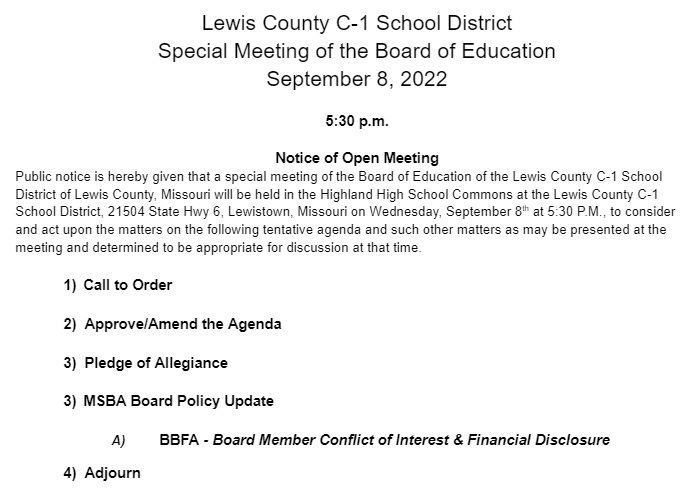 Mrs. Johnston's first grade class earned 30 compliments and got to enjoy their first compliment party- 🍿popcorn with Clifford!